Circuit Zandvoort - The Netherlands
Neon LED circuit in the shape of Circuit Zandvoort. This lamp is perfect for your wall, in the living room, man cave, game room, bedroom, where ever you like. Great as a gift for yourself or some lucky friend or family member.
Read more
Delivery time:

1 - 5 business days production time
Handmade Neon Art
One year warranty
5 Star reviews
Unique art for motorsport fans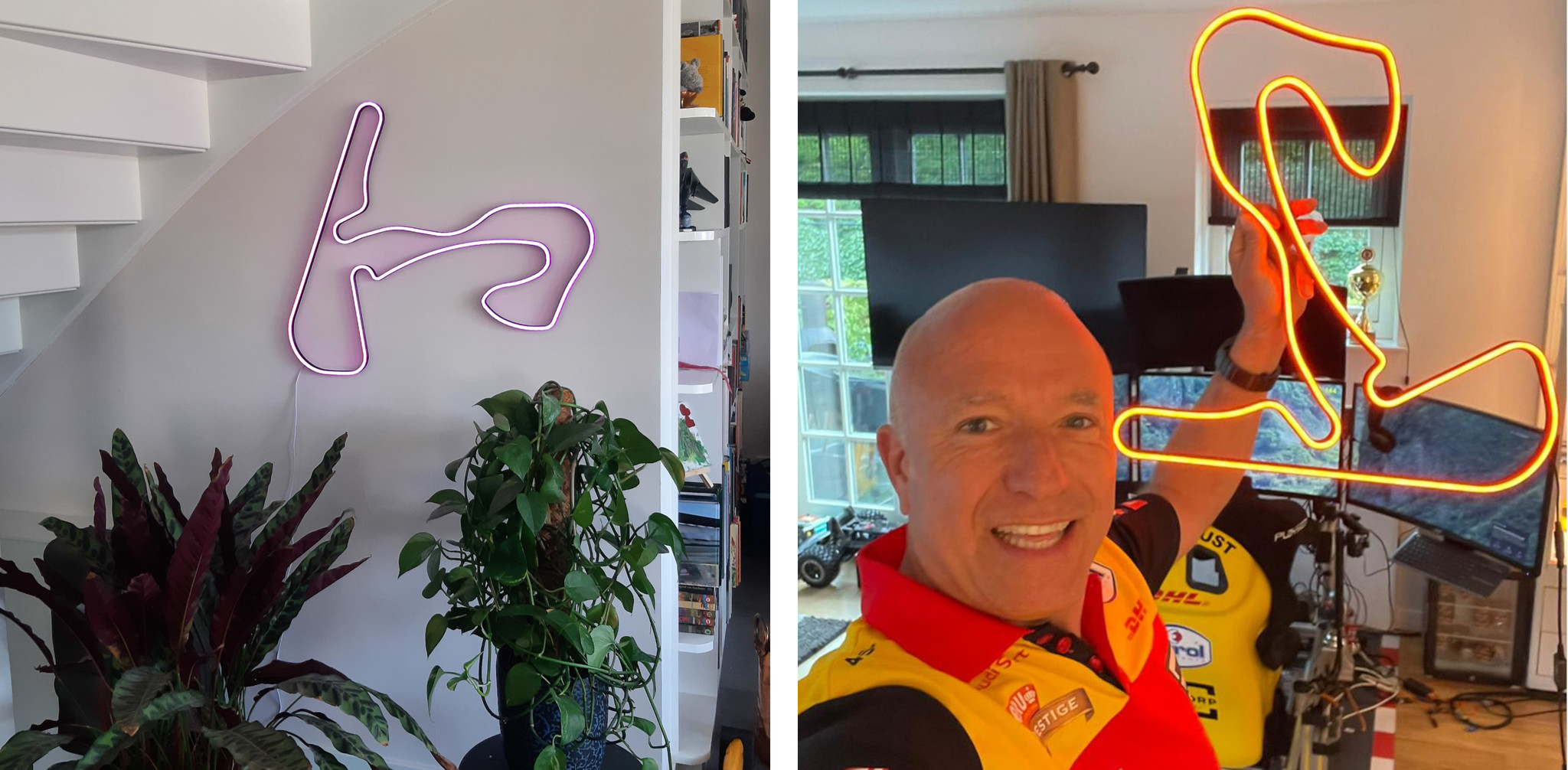 This gorgeous model, crafted by Neon Tracks, depicts Circuit Zandvoort. This high quality neon LED wall light is made by hand and built to last.
Show your love for racing and design the mood in any room with this awesome Neon Track. The gorgeous glow of the neon gives your room retro ambiance with modern LED. Your favorite track in the color of your choice is available in 3 different sizes.
Materials
This track is made with long lasting and environmentally friendly neon LED, this makes it both safe and durable. The neon LED is mounted in a frame that is shaped to Circuit Zandvoort, so there is no back plate or acrylic board. The light hits your wall without obstruction.
Your Neon Track comes with a power adapter (black or white), touch dimmer (black or white) and 3 meter cable (black or white).
An RGB Neon Track comes with a power adapter (black or white), RGB controller (only in white) and a 5 meter cable attached to your Neon Track (black or white). The RGB controller thanks to the remote control and the app control can be easily hidden, so the controller is not in sight.
RGB (Adjustable Color)*
This Neon Track is now available in an RGB version! The next step in LED technology! No longer stuck to a fixed color, but choose from 16 million (single) colors. Choose the (single) color that suits your mood at any time. If you want your Neon Track to be red, set it to red via the included remote control (RF) or via the app (WiFi). If you later want your Neon Track to be green, just change it to green!
You can also choose from one of many scenes, such as changing the (single) color to the beat of the music or blending from one (single) color to another. Set a timer to turn on or off automatically or for automatic color changes. There are lots of possibilities.
* Your Neon Track is adjustable to one color at a time, multiple colors at once is not possible.
Track facts
CM.com Circuit Zandvoort (formally known as Circuit Park Zandvoort and Circuit Zandvoort) is a circuit mostly used for car racing. The track is located near the sea, amongst the dunes on the north side of the city Zandvoort. Between 1952 and 1985 the track was intermittently used for the Formula 1 Dutch Grand Prix. In 2020 it was supposed to become the host circuit for the first Formula 1 Dutch Grand Prix in 35 years. In 2021 it is on the F1 calendar yet again.
| | |
| --- | --- |
| LED type | Neon LED |
| Dimmer or Controller | Included |
| Cable length | 3 metres |
| RGB cable length | 5 meters |
| Power | 12v |
| Warranty | 1 year |
Reviews
"Great product, it looks very nice in my room. I would recommend Neon Tracks to everyone!"

Robert Vermeulen on 14 Jan 2021